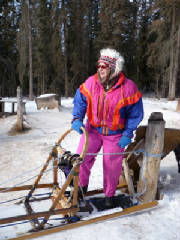 Dr. Mary Albanese was not the first female geologist to map Alaska. She was, however, in the 1970s- 1980s, one of a handful of female geologists charged with mapping the state, which at that time contained large expanses of land where the geology was uncharted and unknown. In a field dominated by men, she spent 10 years as a geological field explorer, extending the boundaries of the geological knowledge of the vast state of Alaska. Her contributions and collaborative efforts range from the first geothermal map of the state, several geochemical maps of the interior, and contributions to numerous geological maps, reports, conferences, and presentations around the state.
((Click HERE for a full list of scientific articles and presentations.))
As part of her efforts to encourage/celebrate other women geological professionals, she was an active member in several geological organizations including the Alaska Women in Mining and a charter member of Alaska Women in Natural Resources. Mary spearheaded a movement to honor geological pioneer Florence Weber, who along with her colleague Florence Collins, had flown a private plane to Alaska in 1949 and together became the first women field geologists in the state. Mary's efforts to celebrate this pioneering spirit culminated in 1987 with Florence Weber's receipt of an honorary doctorate degree, the University of Alaska's highest award.
((Click HERE for a listing of Scientific Awards and Honors.))
After leaving Fairbanks, Mary went on to have a wide variety of other jobs and careers, most which involved some type of writing. In 1995, she taught writing at the University of Alaska Southeast, where her students that year won four of the eleven writing prizes awarded to students throughout the Southeast Alaska region. She earned her PhD in academic writing education in 1999 from the University of Reading in England, and went on to extend her range of writing beyond the scientific and academic arenas, including non-fiction (particularly adoption topics) as well as fiction. One of her adoption publications, THE THAIS THAT BIND, was so highly regarded by the Thai Department of Welfare that it was officially presented to Her Royal Highness Princess Maha Chakri Sirindhorn of Thailand. In 1990, Mary also spearheaded a movement to nominate adoption pioneer BERTHA HOLT for a Nobel Peace Prize, which resulted in a successful nomination for Bertha Holt (although the award that year went to Mikhail Gorbachev.)
Mary's has received writing awards in a variety of genres, from inspirational, science fiction, comedy, to romance.