Book Brahmin: Mary Albanese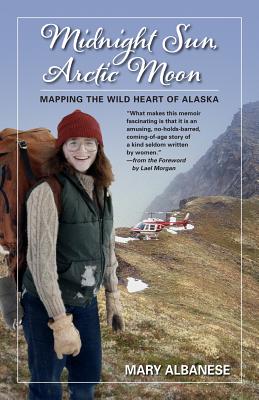 In 1977, Mary Albanese impulsively left New York fresh out of college to become a bush teacher in Alaska. Unable to get a teaching job, her sense of adventure propelled her even further into a career as an arctic geological explorer. After 10 years, she moved south and became involved in adoption, and wrote To Romania, with Love: Saving the World One Child at a Time. Albanese's new book, Midnight Sun, Arctic Moon: Exploring the Wild Heart of Alaska (Epicenter Press, April 1, 2012), chronicles her life in Alaska--bold, outrageous and dangerous.
On your nightstand now:
Steve Jobs by Walter Isaacson. I appreciate that Jobs isn't made to look like a saint. The reality of his life is far more interesting.
Favorite book when you were a child:
The Count of Monte Cristo by Alexander Dumas. When I read this book as a young teen, it made me realize that others (even adults) felt as outraged by injustice as I did.
Your top five authors:
Graham Green, Helen Hooven Santymer, Wallace Stegner and Adrienne Dines, an Irish wit with a smoking pen. If I veer into crime fiction, it would be something by Meg Gardiner with her feisty heroines and edgy humor.
Book you've faked reading:
In high school, I skimmed Anna Karenina to impress a guy. Of course it backfired (he was more interested in the tragic Anna than in me), and I have had an aversion (no doubt completely unfair) to Tolstoy ever since.
Book you're an evangelist for:
The Seed from the East by Bertha Holt. This is the true story of how Harry and Bertha Holt went to Korea in the 1950s to adopt some children and ended up starting an agency that eventually placed over 50,000 orphans with families. When I adopted my kids from Holt in the 1980s, I became friends with Bertha Holt, and got her nominated for a Nobel Peace Prize. After it went to Gorbachev that year, I discovered she hadn't even been told she had been in the running. Her response to the news floored me when she calmly asked, "Which senator did you get to put my name forward?" This told me two things; first, that she knew the process (apparently she had been nominated before) and second, that the award was far less important than her work. At that moment, I knew I was standing in the presence of greatness.
Book you've bought for the cover:
The Horse Whisperer by Nicholas Evans. The title alone made me reach for my wallet.
Book that changed your life:
Tisha: The Story of a Young Teacher in the Alaska Wilderness by Robert Specht and Ann Purdy. The summer I was trying to get a teaching job in Alaska, my aunt sent me this book, and it inspired me to work even harder to go to the far north. Years later, I was working as a field geologist in eastern Alaska and came across Ann Purdy who was living in a rough-hewn cabin. She was saltier than I expected and I can only imagine the job her biographer had in toning down her strong words and views for the book.
Favorite line from a book:
I've read and re-read the Mars trilogy--Red Mars, Green Mars and Blue Mars--by Kim Stanley Robinson so many times that the characters have come to feel like old friends. One character, John, periodically runs into his ex, which usually ends in the same arguments and fireworks. But eventually, he meets her and decides not to push her buttons. "Just knowing he could was enough." For me, that simple phrase says so much about the dynamics of relationships.
Book you most want to read again for the first time:
The Earth Abides by George Stewart. I love a book I can't predict, and this end-of-the-world novel is a doozy. It made me realize that science fiction writers are a lot like explorers because the nature of the work demands such ground-breaking spirit.
Book you found the most shocking:
Raptor by Gary Jennings is the story of a promiscuous and vengeful hermaphrodite during the fall of the Roman Empire. I doubt there is a single page of this sweeping tale that I could read out loud to my mother, so I probably shouldn't find this book irresistible. But I do.